"Quiet the mind, and the soul will speak."
Ma Jaya Sati Bhagavati
This is basically my meditation version of a quick and easy recipe.
My journey to meditation started 15 years ago and has been ongoing and changing, like all things, ever since.  My "woo-woo earthy crunchy" sister-in-law who I love suggested that I contact a practitioner of breath work after I was diagnosed with MS.  I had been humbled enough by then to consider all healing techniques, steroid infusion and beyond.
Two notes:
Breathing.  We all do it. Automatically.  My mom had zero patience with the notion of breathing into anything but her lungs- many a yoga instructor lost her before they began!  All to say, here I use other words, but, if you like "breathing into" that works too. (I do not practice yoga, but I do have a mat so I must have tried once.  It takes more than two minutes though, so….)
Bear in mind, before you begin, this is like a recipe-make it work for you by changing it to suit your taste. You can do it sitting up, standing up, laying down (or lying down!), eyes open, eyes closed, pulled over to the side of the road, in a bath, while cooking 3-minute green eggs and ham, however, wherever, whenever you like!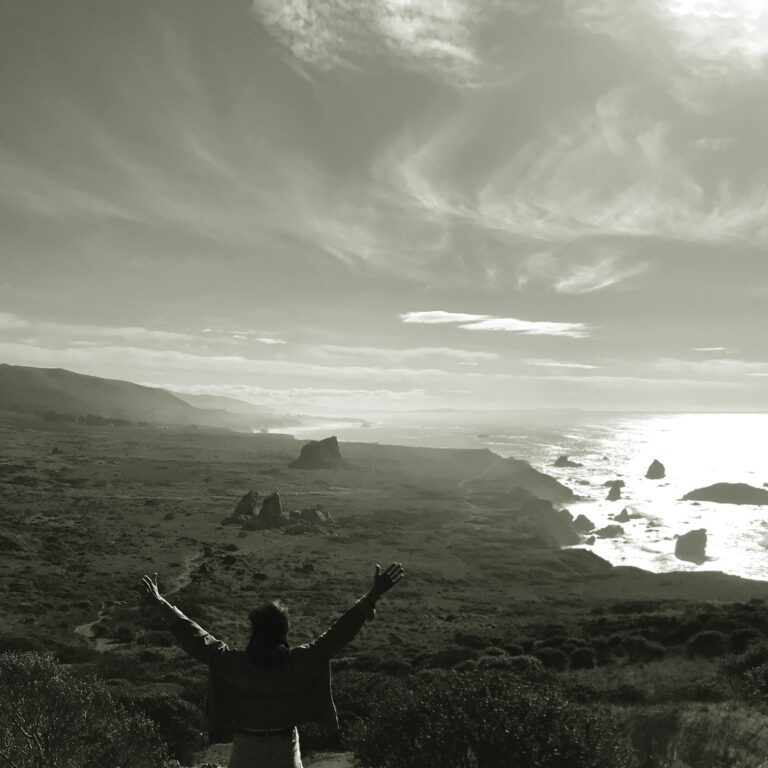 RECENTER IN UNDER TWO MINUTES
Basic Breath Method:
Take a practice breath before your first time.
Take a long slow deep breath-first into the belly and continuing up into the chest/diaphragm, get in as much air as comfortably possible, hold for a nano-second, then slowly release the breath continuing to exhale until all the air is out, again, comfortably, s,lowly and ALL of it.
Next Step:
With each intake and release of your breath focus your conscious awareness on the body parts listed below, in the order below. With the first part of the inhale, into the belly, silently recite to yourself "I". With the second part of the slow inhale silently repeat the word after "I" below, so, for instance "AM" and then continue to recite both, "I AM", silently over and over through the slow exhale.
THE MEDITATION:
DEEP BREATHE IN THEN SLOWLY OUT AS YOU REPEAT THE WORDS SILENTLY TO YOURSELF throughout
Start at the Feet-those things which keep you balanced and grounded literally
To the Groin-where sensation happens
To the Belly-the gut where things are processed and broken down
To the Heart-which keeps beating and keeps us alive
To the Throat-where our voice emerges
"I LISTEN, LEARN AND SPEAK"
To the Eyes-from whence we see the world, through our own eyes
Last deep breathe into the Top of the Head-the brain where we think our unique thoughts
Want more? Add a few different ingredients? Absolutely!!
Start with I am "able", "brave" "calm", 'at peace", or even abit more "willing to let go".
Breathe it all in, then breathe it out into the world.
I would suggest keeping it simple, one word for the entire body workout/cleanse/meditation. I've had people tell me that they tried different words for different body parts and that was less effective. But, you wanna try it? No one's gonna stop you!
"I AM ABLE/PEACE/BRAVE"
"I FEEL ABLE/PEACE/BRAVE"
"I DO ABLE/PEACE/BRAVE"
"I LOVE ABLE/PEACE/BRAVE"
"I LISTEN, LEARN AND SPEAK ABLE/PEACE/BRAVE"
"I SEE AND AM SEEN ABLE/PEACE/BRAVE"
"I UNDERSTAND ABLE/PEACE/BRAVE"
The longer you do this daily the more you may find that words come to you without consciousness. Feeling stuck or overwhelmed? You can always go back to the basics, I AM. One mom found this was particularly effective as a sleep aide. You can also try out pieces of yourself that maybe you are not so very fond of and would like to release -messy, impatient etc.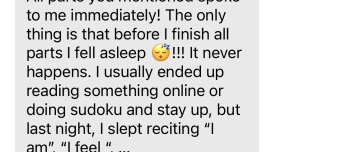 Always above all else, be kind and gentle with yourself. 
This is a practice; perfection is not the goal and frankly doesn't exist.
(Image is of one of our kids on one of my mini vacays with them.)